Critical question for creative and marketing services firms:
What will it take for you to break the pattern of discounting your time and expertise?
If you answered:
"When I have the confidence to blow past prospects' too-small budgets and requests for work that's purely tactical"
"When I have clarity on how to price our vaguely-defined but high-value strategic work"
Or, "When I can finally execute what I learned in the Pricing Creativity book…"
Then, it's time to master Blair Enns' proven system for remarkable profits beyond the billable hour.
Join your coach and 19 of your peers for Pricing Creativity Bootcamp, launching soon.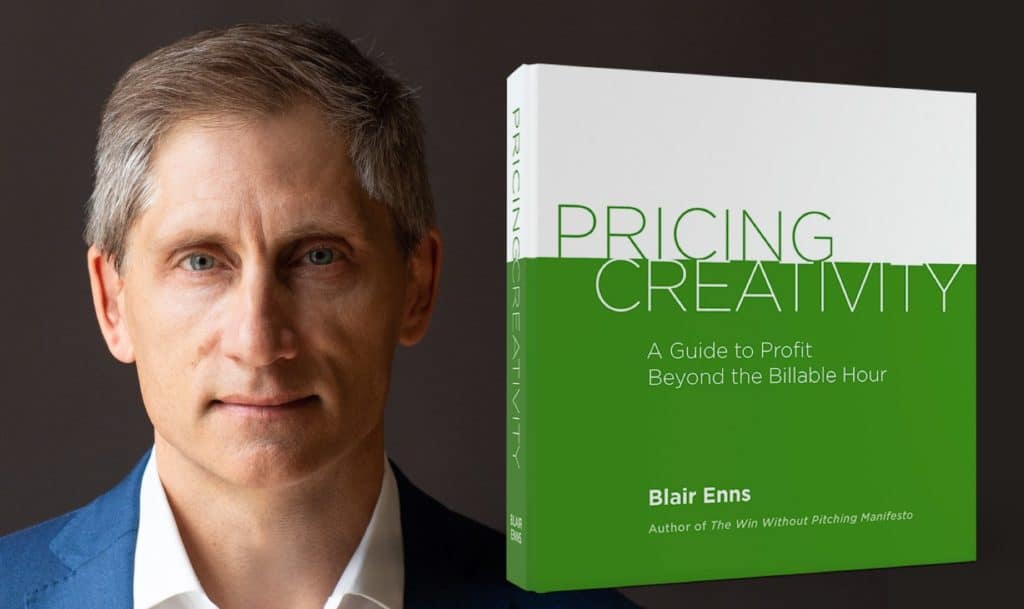 From solopreneurs to mid-sized firms...
Creative and marketing agencies learn to
dramatically increase

their revenues at Pricing Creativity Bootcamp

A presentation design agency:
We used to bill everything based on time and materials or deliverables.
I wanted to find a way to price to improve our bottom line and help us capture more of the value we create. 
Thanks to Pricing Creativity Bootcamp, we have a new way to price projects, a new outlook on prospect conversations, and a peer group for support as we change how we sell.
A branding, design, marketing, and content strategy consultancy for B2B:
Our proposals were overwhelming in length and in the effort they required.
We had some theory in our approach to pricing, but in practice, we were inconsistent and didn't have the practical skills to price creatively.
What I learned in the Bootcamp forced me to better qualify prospects, so we spend our time in sales profitably.
I've also saved time on proposals but cutting to the chase, and better structuring our offers in a simpler way.
Right away I was able to upsell/accelerate an engagement with a client that we won during the Bootcamp.
A product development firm for medical, life sciences, and consumer health:
Before the Bootcamp, I was gravitating back toward tactical selling of tactical work.
Just the week before Bootcamp opened, I assigned myself the task of learning more about and implementing value pricing. So the timing was fantastic.
I learned exactly what I needed to from Blair. Right away, my sales conversations changed. Now, I'm creatively pricing options that are based on the value we generate for clients.
Video producer for non-profits & mission-driven organizations:
It felt like I had reached a pricing ceiling.
To charge higher prices that allow me to do my best work, I knew I needed to anchor those prices in value that's unique to each client.
But I didn't know how to facilitate a conversation that lets me uncover what is most valuable to a prospect.
Now, after the Bootcamp, I do. I finally understand how to move from "technician" to valued partner through deeper conversations about what the client values.
And the beauty is, getting to a higher value is a repeatable, predictable process.
If you've been struggling to
get the right clients

to buy in at the very top levels of investment...
You are not alone. Most creative and marketing service providers struggle to sell their highest-value, most strategic work…
And to do that work at prices that leave you with room to not only breathe but to be more creative, to go deeper, to solve more important client problems, freely.
For work of that caliber, you must charge far more.
Only, it's one thing to "get it"… To realize your prices must rise and understand the principles in Pricing Creativity…
It's another to lead prospects through conversations about value, upside, risk, trade-offs…
And then slide a one-page proposal across the table, complete with a premium offer at a higher price than you would have imagined possible.
Your instincts will tell you to do what you've always done, instead.
To cut the price. To add proposal bells and whistles. To offer more free bonuses.
Those instincts are hard to break…
Even when you know your impulses result in late nights spent bent over 30-page proposals that destroy your dignity and your personal life…
Even when you're absolutely certain that what the prospects are asking you to quote on isn't what they really need…
And even when it's clear you could dramatically increase your income…
If you could cooly and confidently find out what clients really value, price accordingly, and sell that higher investment with ease.
That's why Pricing Creativity Bootcamp exists. It's the six-week program where you'll replace those old, self-sabotaging instincts with new instincts for profit.
"I couldn't stand by while creative professionals gave their value away for free"
MEET PRICING CREATIVITY CREATOR, BLAIR ENNS
Blair Enns is the founder and CEO of Win Without Pitching, a sales training and coaching firm for marketing and creative service providers ready to win more new business at a lower cost of sale — without donating your best thinking.
He is the author of The Win Without Pitching Manifesto, a book credited with countless stories of 7-figure growth, and of Pricing Creativity: A Guide to Profit Beyond the Billable Hour.
Blair is the architect and designer behind all of the Win Without Pitching training, coaching, and bootcamp curricula.
(Only 20 spaces available)
The most effective step to a healthy bottom line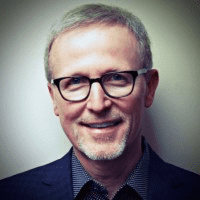 For every firm faced with the margin pressures created by marketers' current obsession with cost-cutting, embracing the Pricing Creativity principles and practices is by far the most effective step they can take toward regaining and maintaining a healthy bottom line.

Supported by lots of real-world examples, Blair shows how firms can apply the same creativity they employ solving their client's marketing problems to getting paid for the value they create instead of the hours they work.
TIM WILLIAMSON
CEO Ignition Consulting Group
Now, you can learn to uncover what prospects truly value, creatively quantify and persuasively sell
higher-value services.
The truth is, clients are willing to pay more… No. They're happy to pay more and thank you for your expertise when you've framed the value of your offer expertly.
How much more?
Before you've finished Pricing Creativity Bootcamp, you may charge 50% more. You may double or triple your margins within a year…
Even with inflation driving up your costs…
Even if you're still recovering from the destructive effects of COVID on your market…
You'll profit more because you've learned to finally charge for the value you create.
Pricing Like a Marketer to Negotiating Like a Pro, We Will
Cover it All
Everything you've wanted to ask…
Everything you've known you need to internalize if you've read the Pricing Creativity Book…
Everything that trips you up and holds you back from making more money in your service-based business.
Even if you've been to a Win Without Pitching workshop, Pricing Creativity Bootcamp is the only place where we dive this deeply into pricing.
It's 6 weeks of online training and coaching to help you master the mindset, apply the principles, and practice negotiating creatively to capture far more of the value you create.
Join us as we lead a small group beyond a conceptual understanding of Pricing Creativity, to dramatically new pricing and profit levels
Here's
what you get

inside Pricing Creativity Bootcamp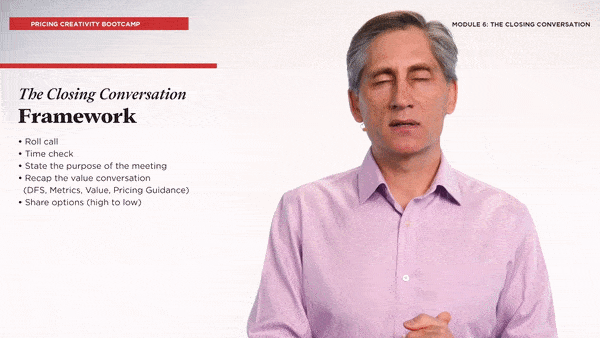 Exclusive Video Training
In-depth videos exclusive to the bootcamp. This training builds on the Pricing Creativity book but goes further, with more emphasis on application.
Prepare for your live sessions with your coach by watching each weekly module.
(Average time investment: 20 minutes/week for 7 weeks)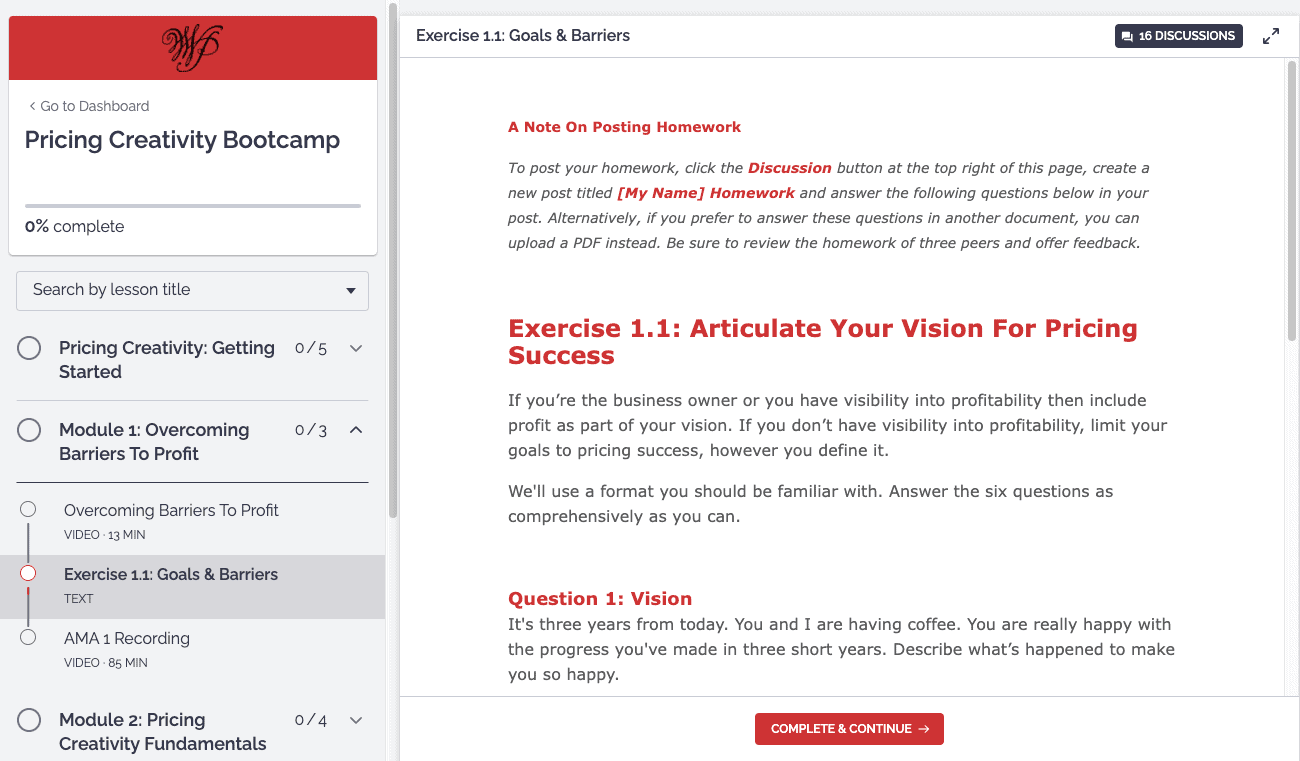 Value Conversation, Pricing & Proposal Exercises
Each week, you'll put what Blair teaches into practice and build your muscle memory for charging far more.
Some exercises you'll do independently, and some with a partner we'll assign so you can role-play your pricing conversations.
Exercises are interactive every week, so you see your peers' work, give each other feedback, and raise your collective skill levels.
(Average time investment: 40 minutes/week for 6 weeks)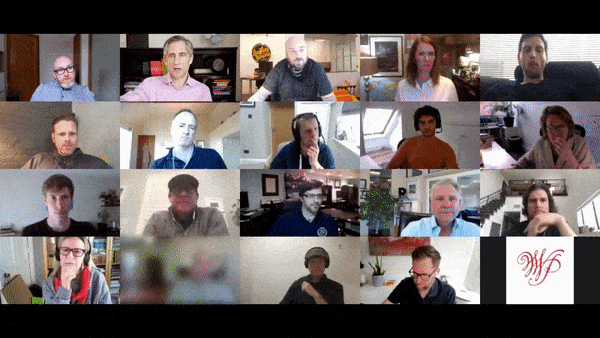 Weekly Live Zoom Coaching
Get 6 weeks of live group coaching. This is your opportunity to get answers while learning from real-time feedback on your pricing exercises.
You'll also deepen your skills by watching Blair model how to comport yourself in tricky pricing scenarios.
(Average time investment: 90 minutes/week for 7 weeks including orientation)
Now, I can charge more and spend less time on proposals.
Here's how the six-week bootcamp will roll-out

Meet your coach and your Bootcamp peers in your first live 60-minute session. You'll hit the ground running so you get the most out of your time in Bootcamp and set you up for success.
Overcoming Barriers to Increased Profit
You'll learn why some firms transcend pricing limits and enter the highest tier of financial success. And get guidance on how to step up to the next rung in pricing and profitability by leaving behind the habits that got you to this level, but can't take you farther.
Pricing Creativity Fundamentals… And Beyond
You'll discover how to price the client, offer strategic options, and anchor high but with an airtight justification. Plus, get real-world coaching to create a one-page proposal that derails the RFP process, wins more and bigger deals at a lower cost of sale.
Uncover the True Value… And Price Accordingly
The most critical skill you must master to consistently raise profits: navigating the value conversation with prospects. But don't test your mastery on a live opportunity — nail this critical sales skill first with our help.
(Re)Construct Your Proposals
You've learned the principles of the value conversation and seen it modeled by your coach. Now use what you've learned to frame value in a mock proposal, bundle and price your options. Post your one-pager to get feedback and learn from each other.
Extraordinary Value Creation, Extraordinary Profit
It's time to create a proposal for a real scenario and get feedback to hone your skills. You'll learn advanced bundling techniques, negotiating through proposal structures, and techniques for putting compensation at risk.
Take Back the Closing Conversation
Learn the Win Without Pitching closing conversation framework, so you're never taken off-guard again. Instead, you'll quickly and confidently close the deal — or know when to walk away. Volunteer to present your one-page proposal in the weekly session led by your coach and get valuable feedback.
Join us inside the Bootcamp
Like most agencies, we were pitching for work, spending a long time on proposals, and often pricing too low.
Initially, I wasn't sure how the Bootcamp would be different from the Pricing Creativity book, but now I really understand how to present the 1-page proposal with three options and a high price anchor.
I also feel for the first time more detached emotionally from the price, which helps me propose higher value options.
I got more value out of the Bootcamp than I expected and enjoyed it immensely. I loved the AMAs, the work with peers, and that the Bootcamp was designed to keep me accountable.
I am excited about the possibilities for our business if we practice these WWP principles.
When You Join Pricing Creativity Bootcamp
You'll also get lifetime access to a dedicated WWP Forum and Slack Channel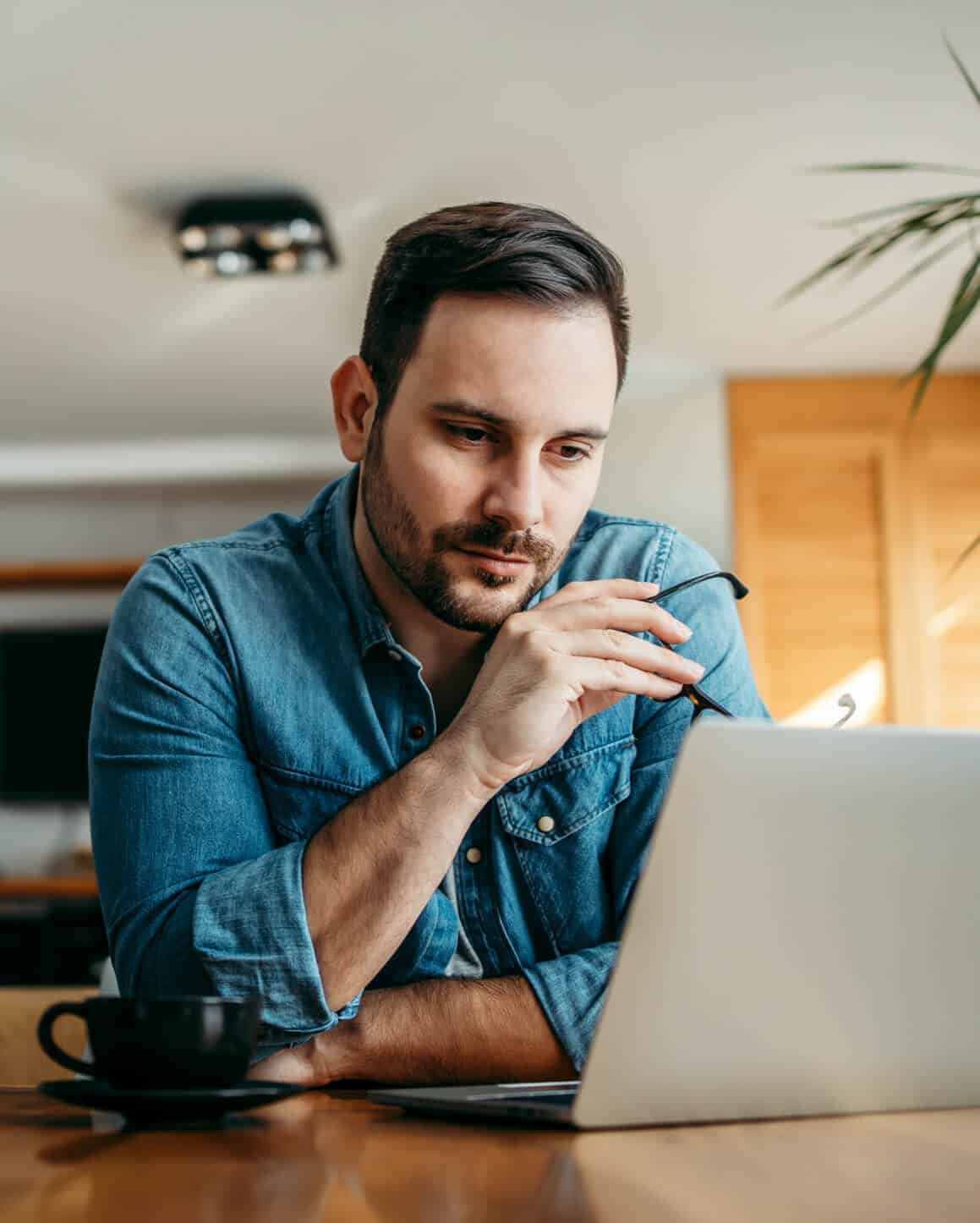 Stay connected with your Bootcamp peers, ask each other questions, share your struggles and successes, so it's easier to stay accountable to the decision you made to command higher profits.
Keep tabs on what's working, what's not and get insight on industry developments from your peers — 19 other Pricing Creativity Bootcamp members determined to win new business at higher margins — without pitching.
I know how to price even non-value-based options for healthier profits
the pressure in sales calls is gone
Pricing Creativity Bootcamp

is for you
If you can say "yes" to most of the above, then join us for Pricing Creativity Bootcamp and master the techniques that will set you free from underpricing
Register now

for Pricing Creativity Bootcamp
ORIENTATION session on thursday May 19, 2022
2-3pm BST / 9-10AM ET
(orientation will be recorded)
PLUS six 90-minute AMAs every THURSDAY
FROM 2-3:30pm BST / 9-10:30AM ET