Critical question for marketing and creative services firms:
What's the 'fair market value' for your agency's services now?
If this question keeps you up at night, it's time to master Pricing Creativity and lead your agency from surviving to thriving.
Now, you can learn the mindset, apply the principles and practice the techniques of negotiating creatively — and capture more of the value you deliver.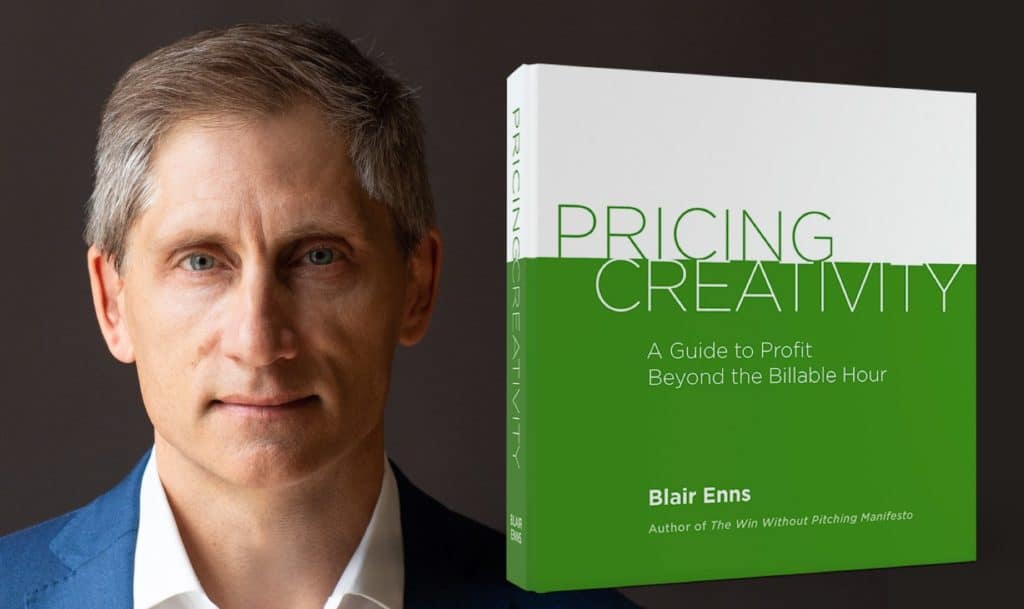 There are clients ready to spend on the
value you deliver.
Some are existing clients; some haven't discovered you yet.
Should you double-down on value-based pricing? Or assume that every buyer is focused exclusively on price?
These are questions you shouldn't have to answer alone. And in six, self-paced modules created by Blair Enns you won't have to.

The truth? There is no
"fair market value"

for creative services.
What clients are willing to pay… No. What they're happy to pay and thank you while they're at it has always been subjective.
Your clients will pay more for your expertise, framed expertly.
How much more?
Before you've finished Pricing Creativity Bootcamp, you may charge 50% more. You may double or triple your margins within a year… 
Even in an uncertain economy…
You'll profit more because you've learned to finally charge for the value you create.
So today
even if

you've read Pricing Creativity
And especially if your idea of the best possible outcome for 2021 is taking any project that comes your way, at any price…
Hear this. 
For your agency to survive and thrive, you must learn to uncover, quantify and creatively price the value you deliver.
Because the value you deliver hasn't changed. What's changed are the stakes at play when it's time to sell that value.
"It's all one-page proposals until the end of time"
PEEK INSIDE THE BOOTCAMP:
PRICING CREATIVITY BOOTCAMP was created by Blair Enns
Blair Enns is the founder and CEO of Win Without Pitching, the sales training and coaching program for creative professionals. 
His first book, The Win Without Pitching Manifesto, is credited with countless stories of 7-figure growth.  
Blair advises marketing and creative firms the world over on how to deprogram themselves from the standard approach to winning new business. 
His second book, Pricing Creativity: A Guide to Profit Beyond the Billable Hour has guided thousands of firms to find alternative paths to new levels of profitability.
Now, in six video modules created and delivered by Blair, you'll learn to price the client and and apply your creativity to pricing your services. 

You'll get closer to mastery with the help of our Win Without Pitching coaches to answer your questions along the way.
(Only 20 spaces available)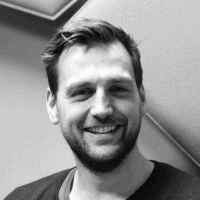 I just had a qualifying call with a CEO of a technology company and uncovered at least 1 million dollar opportunity for us. I would have probably pitched them a 7-10k retainer a few weeks ago.
THORSTeiN NORDBY
Founder & CEO at NETTLY.CO
Pricing Like a Marketer To Negotiating Like A Pro, We Will
Cover it All
Everything you've wanted to ask… Everything you've known you need to internalize if you've read the Pricing Creativity Book… Even if you've attended a Win Without Pitching workshop, Pricing Creativity Bootcamp is the most intensive pricing-focused training we have ever delivered to help you work through the principles, rules and scenario-specific strategies for selling at a higher profit.
Join us as we move beyond a conceptual understanding of Pricing Creativity, to dramatically new pricing and profit levels
All
Pricing Creativity Bootcamp

Modules Drop on Day One
Here's how the six-week bootcamp will roll-out
Overcoming Barriers to Increased Profit
You'll learn why some firms transcend pricing limits and enter the highest tier of financial success. And get guidance on how to step up to the next rung in pricing and profitability by leaving behind the habits that got you to this level, but can't take you farther.
Pricing Creativity Fundamentals… And Beyond
You'll discover how to price the client, offer strategic options and anchor high but with an airtight justification. Plus, get real-world coaching to create a one-page proposal that derails the RFP process, wins more and bigger deals at a lower cost of sale.
Uncover the True Value… And Price Accordingly
The most critical skill you must master to consistently raise profits: navigating the value conversation with prospects. But don't test your mastery on a live opportunity — nail this skill first with our help.
(Re)Construct Your Proposals
You've learned the principles of the value conversation and seen it modelled. Now use what you've learned to frame value in a mock proposal, bundle and price your options. Post your one-pager to get feedback and learn from each other.
Extraordinary Value Creation, Extraordinary Profit
It's time to create a proposal for a real scenario and get feedback to hone your skills. You'll learn advanced bundling techniques, negotiating through proposal structures and techniques for putting compensation at risk.
Take Back the Closing Conversation
Learn the Win Without Pitching closing conversation framework, so you're never taken off-guard again. Instead, you'll quickly and confidently close the deal — or know when to walk away. Volunteer to present your one-page proposal in the Ask Me Anything call led by your coach and get valuable feedback.
I've spoken to people who call themselves disruptors in this world and they all fall far short from the level of disruption that you train us to do. I really do enjoy sales now."
Join us inside the Bootcamp
When You Join Pricing Creativity Bootcamp
100 + Hours of Webcast Archives
These webinars walk you through Win Without Pitching insights, address common questions, and guide you through common challenges.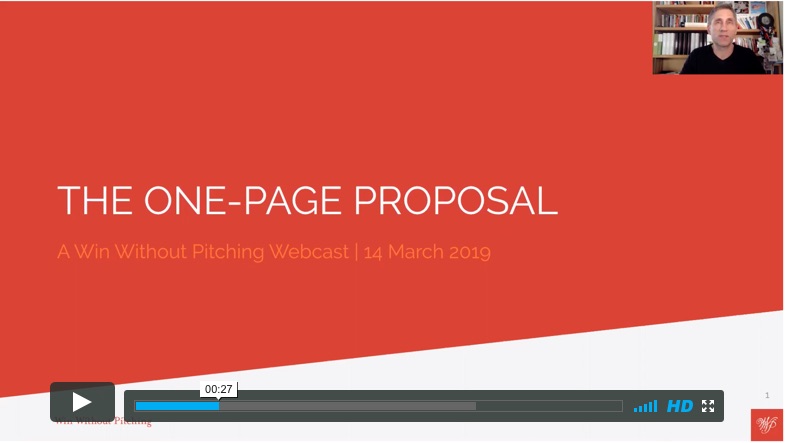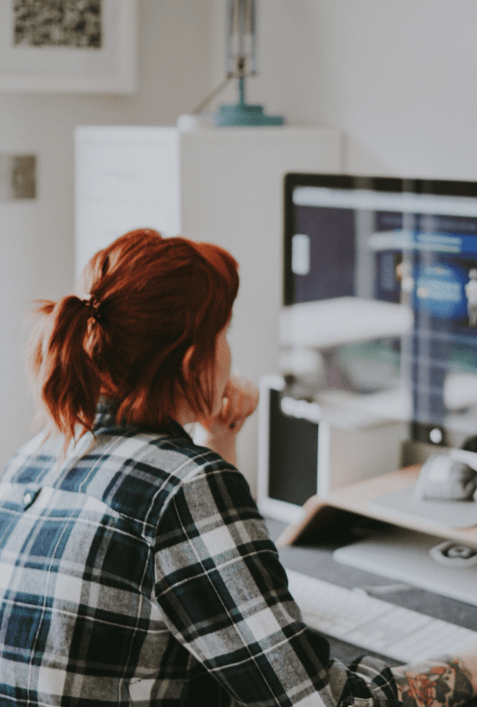 Dedicated WWP Forum and Slack Channel
Stay connected with your Bootcamp peers, ask each other questions, share your struggles and successes, so it's easier to stay accountable to the decision you made to command higher profits.
A Library of Weekly Focus Calls
Each Weekly Focus Call is focused on a specific Win Without Pitching principle. Teachings were delivered by our coaching staff.
All bootcamps include instant access to more than 160 calls for your entire team.
Pricing Creativity Bootcamp

is for you
If you can say "yes" to 3 out of 5 of the above, then join us in Pricing Creativity Bootcamp and master the techniques that will set your firm free
Master pricing in the Pricing Creativity Bootcamp
ORIENTATION IS MONDAY OCT 25, 2021
Six self-paced modules, plus six 90-minute AMAs every Wednesday at 9 AM PT (12 PM ET, 5 PM BST) beginning November 3 and concluding December 15.
(no AMA session the week of US Thanksgiving)
⚠️ Our bootcamps are limited to 20 spots only and sell out quickly.
Be the first to know when our next Pricing Bootcamp is launched: