The Manifesto arrives at a time of rapid commoditization of design and advertising-based businesses. It is the field guide to fighting the internal & external forces of marginalization, and to building a more lucrative & rewarding practice.
"No matter what business you are in, if you have to sell or present your services this book offers the guidance to be disciplined about the process."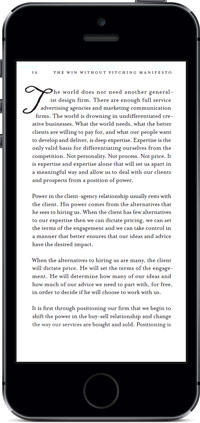 A treatise on winning new business without pitching free thinking, the Manifesto maps out twelve proclamations of a Win Without Pitching firm.
These are the steps to move any creative business—freelance designer or global ad agency—from order-taker to expert, and to transform the way they get and do business.
At last: The secret to being creative AND successful
"This succinct and beautifully written book clearly conveys what whole armies of consultants and self-help gurus have tried in vain for years to teach."
Expert Creatives Can Make Money Too
"At last a book that inspires and that seeks to help our industry be more professional and make money doing it. Get your team to read it and discuss it with them."
I believe.
"I used to hate my job of selling creative services. Blair and his principles taught me how to turn selling and manipulation into helping and serving. Cold calls became introductions. Unsure of my next step became clarity. I believe…"
Stop Selling, Start Serving—But please don't give it away!
"I have been in the agency world in new business development for over 25 years and have read all the books—Blair wrote this book for me…. and everyone that sells creative solutions. The Win Without Pitching Manifesto is a must read by any agency owner, leader or new business pro."
Essential reading for the creative business owner
"The Win Without Pitching Manifesto is a long overdue wake-up call to all those running [creative] businesses. How to establish yourself not just as the agency of choice but as the must-have agency and to command a price premium to match. Great stuff."
Anyone in any creative field MUST read this book!
"Blair gives every designer the information they need to change the dynamics of the client relationship, become more profitable and deliver higher quality work – if they have the balls to follow his advice!"
The 12 steps a Creative Firm must take
"The book is simple, direct, engaging, and will smack you in the head about all the false "have-to's" in the sales process of our profession. I am on my second copy of the book. The first copy is highlighted, marked, folded and covered in scribbles of my notes."
Build a better way of bringing the best business to your shop
"The Win Without Pitching Manifesto is the most important book we've read in the last 5 years on how to build and grow a better service business. It's required reading for our partner team and anyone in our firm who participates directly in new business and client engagement."
Best book I've read on design/marketing firm business development
"I just finished reading this slim book cover-to-cover, having highlighted about three-quarters of the copy. It's not an exaggeration to say that I've come away with a renewed sense of hope about the future of our business."
Concise writing, invaluable solutions
"The Win Without Pitching Manifesto will make a valuable addition to your business philosophy library. The respectful treatment of creative businesses will enchant the loopy creative mindset into focus. The writing is concise, the solutions are invaluable."